I'm not usually one for massive purchases on vacations unless it's specifically a shopping trip, which in all fairness, only happens once every few years. I find that souvenirs are usually pretty tacky and I tend to avoid tourist traps at all costs. The worse kind of stores are the ones where they walk you through quickly about how certain items are made and then force you to exit through a gift shop. The fiance and I have a pact to sit outside and wait while our group goes through the motion. I'm sure we appear pretty cheap, but at least I can keep my annoyance in check! Another really cheap habit I have is doing my laundry in the hotel room, so I usually pack quick drying clothes (tip: the
Hope jersey tee-shirts
are the best things ever! They dry almost instantaneously! Don't forget detergent!). That way, I don't really have to buy new clothing on trips and I save on over priced hotel laundry services.
From my recent trip to China, I managed picked up a sun hat in Lhasa (USD$7), a little Laughing Buddha statue (USD$20) and a traditional hand loomed throw (USD$10). I also picked up a "pashmina" (no doubt a fake) scarf for USD$2! The laughing buddha statue is something I've been pining for a long time, it makes me happy when I get up in the mornings, so I think all in all, it's a pretty worth while purchase.
I think the scarf will be a nice pairing for my summer to-buy list which is as follows:
1. A good white summer-weight tee
I don't believe in spending too much money on a white tee-shirt especially ones where you're likely to wear to a barbecue or to a summer picnic. However, you also want to balance quality with price, making sure that the tee isn't too likely to stretch out or thin out in the wash. I've had cheap, lightweight tees unravel and develop a hole within the first wash. My favorites are ones from Banana Republic or Canvas by Land's End. I like them a little loose, and the scoop-neck, boyfriend tees are light and airy enough without looking drab. If I had my druthers though, I would pick up
this one by Rag & Bone
in a jiffy.
2. Clare Vivier Messenger bag in grey
I think the grey color is a good all-season bag and is large enough for toting around books and other junk e.g. sunscreen, iPod, wet wipes, picnic blanket etc. etc.
3. Conroy & Wilcox small Signet Ring
I feel like I should keep things a bit low key when I'm wearing tee shirts & shorts and a
signet ring
just seems to bring everything together.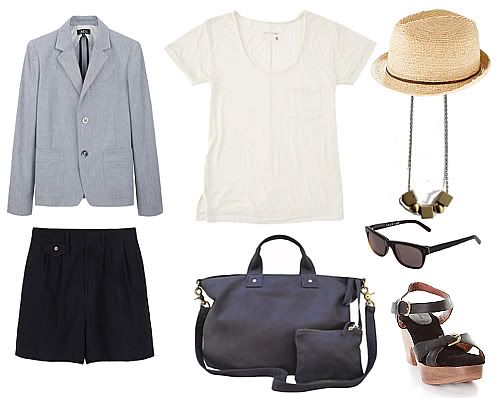 APC Oxford Denim blazer; Rachel Comey Clan Shorts; Rag & Bone Boyfriend Scoop neck tee; Claire Vivier messenger bag; Madewell Park Bench fedora; ALittleDot Cubic necklace; Rachel Comey Wala clogs
I think I'm pretty much set for summer, Seattle has had really silly weather so I'm not sure if any major purchases of summer clothing are warranted. I'll probably be lounging around in cropped pants or shorts, light tee shirts and flats or sneakers. I'm
very
quite determined to lose about 5 lbs over the next few months, but I'm not sure if my summer staple of Caprese salad with mozzarella di bufala (*grin*) will help me achieve that. Any ideas or word of advice on how to avoid drinking too much prosecco and eating too much ice cream on warm summer nights are welcome!
P/S: I apologize for not responding to the various comments left on previous posts. I've been sick with various kinds of self-diagnosed ailments, but I do appreciate all the nice comments left and I hope to get back into the regular mode of things soon.
P.P/S: I am still sorting through the pictures from China and for those who are interested, I'll post the second part of my trip in the next few days!